Published on CNBC – February 6, 2015 –
Millions of young Americans, many with college degrees, are unemployed, and that does not include those who are underemployed or have given up trying to find work. Yet millions of jobs remain unfilled, and American companies complain they have trouble finding people with the practical, technical, job-ready skills they need.
Youth unemployment is a huge problem. Globally, 73 million young people are neither employed, nor undertaking education. And, while many economic indicators have showed signs of improvement, youth joblessness remains dizzyingly high — generally three times higher than the rate for adults. Here in the U.S., the adult unemployment rate stands at 5.7 percent, but 17 percent of the nation's youth are jobless.
Yet 36 percent of employers globally are having difficulty filling jobs. In the U.S., this "skill gap" represents some 4.8 million unfilled positions.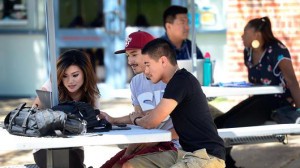 The principal cause of youth unemployment in the U.S. is a woeful lack of marketable workplace skills among high school graduates (and many college grads). This should come as no surprise. The vocational training that once prepared millions of high school kids for good jobs as electricians, mechanics, carpenters, chefs, machinists and so forth has withered—a victim of budget cuts and the widespread attitude that everyone should go to college, whether they are academically inclined or not. This (misguided) attitude prevails throughout the U.S. despite the fact that less than 25 percent of community college students and 60 percent of four-year college entrants complete their study.
America's failure to prepare young people for working life is most striking when we look at economic competitors such as Germany, Switzerland, the Netherlands, and other northern European countries, where youth unemployment is half the U.S. rate or less.
So, how do they do it?
For one, most high school students in European nations participate in vocational training and work-study internships, including students who are college-bound. The result is that the majority of young people leave secondary school with marketable skills and relevant work experience. Between 30 percent and 70 percent of these students continue their training through formal apprenticeships that are paid for by their employers, positions that allow them to earn a steady salary while they learn – and have a job waiting for them at the end of their training.
In comparison, in the U.S., only 4 percent of high school students become apprentices, even though U.S. apprentices are paid while they learn, can earn an associates degree at no cost to themselves, and step into jobs paying $50,000 on graduation — on a par with the average college grad.
The success of European skill-building programs can be credited, in large part, to collaboration between educators, employers, as well as the communities and governments that support
the programs. High schools, technical colleges and companies work together to ensure that students develop the exact skills and problem solving disciplines that hiring companies need. For example, high school work-study programs in collaboration with local businesses provide young people with mentoring from experienced adults as well as hands-on experience using the technologies and equipment they will encounter in the modern workplace, and facing the challenges they will find in the real world of work.
Could we put a big dent in youth unemployment by doing something similar in the U.S.? The answer is yes. In fact, we're already seeing examples of successful skill-building programs
in the United States, particularly in communities where European manufacturers have built new plants. European companies such as Siemens, Volkswagen, STIHL, Blum, and BMW, for example, are working with high schools, community colleges and state labor departments to create opportunities for young people in the communities where their plants are located. But with 10 million unemployed young Americans, we need a lot more of what these companies are doing so well. Simply put, if we want to decrease youth unemployment in America and provide more of our young people with secure and well-paid work, skill-building must scale up geographically and across industries.
The federal government is aware of the importance of skill-building, raising their commitment to apprenticeships and community college programs. But governments, and even international institutions, will never be more than minor players in the skill-building game. Companies wishing to employ the best and brightest minds of the future, and the schools that educate these young people must take the lead.
Original publication online: http://www.cnbc.com/id/102402721